DRIVER APP



Instant and advance bookings
Live status updates
Sound notifications
Interactive map
GPS tracking
Routing
Receipts to customers
Supports multiple languages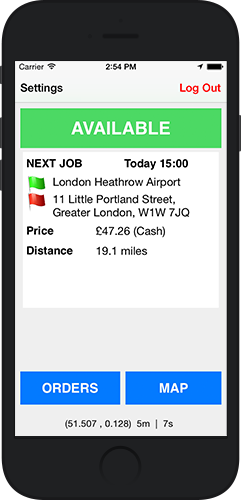 OpenCabs Driver App is a brilliant app, made to receive and manage bookings from passengers or from your dispatching company. It's fast, reliable and simple to use. If you need a taxi app for drivers, you've come to the right place.
Every screen (and the buttons in it) has a specific purpose and is designed for a highly intuitive user experience. Even if it's the first time you use the app, you'll be able to suss out every functionality without any explanation. Of course, we can help you make the most of it too.
To make sure you don't miss any booking, we created added sound alerts to notify you the second a booking arrives. You can also enable the vibration mode.
If drivers activate the GPS on their smartphones when they're logged in, you will be able to track all your drivers in the overview panel of our dispatch system. Control their positioning to manage the best zones and assign bookings in a more efficient way.
We have active fleets all over the world. For this reason we work hard to translate the driver and passenger apps into many different languages, verified by people native to each country. In the coming months, we will also be offering translations of the main dispatch system.
Let passengers know who you are by adding a photo of your driver profile. Soon, passengers and drivers will be able to rate each other via chat and leave feedback.
Unique chat system integrated in the apps to that drivers can exchange messages on the phone with the office without needing to call and saving SMS money.
Whenever a new feature is added, you'll receive a free, instant update to your app.
With the OpenCabs Driver app, save costs and complications. We simplify the life of professional drivers.
Dispatch system and Drivers Apps at £4.99 per driver/month.
No hidden fees. No set up fee. No monthly minimum.