PASSENGER APP
Both iPhone and Android Apps
Company Logo & Integrated Branding Options
Display your Fixed fares & Estimate Pricing
Customers can Pay by Cash, Card and Account
Live Driver Tracking & Driver Details Display
View active, upcoming and previous bookings
Optional Driver Rating & Driver feedback
Multiple languages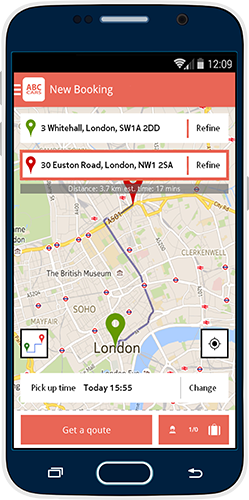 Company logo
Take the first step of taxi app personalisation with your company logo featuring in the app. Your company logo will appear on every page of the App, and pleasantly remind customers who it is they are booking with.

Branded communications
For every type of communication taking place between your company taxi app and the customer, the customer will receive a personalised form of communication from your company. Accepted bookings, amended bookings, cancelled bookings – all these conveyed messages will bear your company name.

Real time bookings
Unlike other taxi apps which send you an email when there is a booking, our apps allow the customer to book in real-time, and for you to receive that booking immediately. No more waiting around, no more booking delays. With taxi apps from ubiCabs it's instant bookings which means instant money.

Metered bookings
Our taxi app also facilitates bookings for metered journeys. The customer simply selects where they want to picked up from, and your controller sends them an ETA.(This feature only works with cash payments)

Fixed-fare bookings
Your customers can select a pickup and drop-off in your company taxi app, and a quote is immediately generateed for their requested journey.

Online operator panel
All the bookings that come through your company taxi app will be received in a web-based operator panel. An audible notifier will alert you to new bookings, and you will be able to accept or reject these bookings as they come through.

Credit card payments
Our taxi apps give your customers the freedom to pay by credit card. By linking your merchant account to our payment gateway in a few easy steps, your company taxi app will have the card payment option that customers demand. More payment options means more customers!

Driver Tracking
Our taxi app also provides the location of the driver so that your customers can track him as he drives to pick them up. The customer also gets the driver and vehicle details.

Previous Bookings
The app stores all previous bookings in cloud for your customer's reference.

Rate a Journey
Improve your services by getting instant feedback and ratings from customers about their journey.

Vouchers
Reward your customers by gifting them vouchers or discount coupons.

Push Notifications
Your customers are informed instantly about the booking status with Push Notifications from the server.No more delays in confirming a booking.

Analytics
You can get detailed analytics on the bookings done by your customers and the revenue generated through the app.

Maintenance
Every taxi app out there needs constant care and attention in order to ensure optimal functionality. At OpenCabs we ensure that no taxi app is left behind by adhering to regular maintenance procedures. This includes upgrades, bug fixing, and general maintenance.

Multiple Languages
Let your app speak the language of your customers. You may choose to localize your app in different languages.